Neighbors Bank Frequently Asked Questions
Here's what other people like you wanted to know.
Where can I find Neighbors Bank branch locations?
We're primarily an online bank with only one physical location in Missouri. This allows us to keep expenses down and offer competitive rates to you.
With Neighbors Bank, you can bank online using your computer or mobile device, or by phone. We have Customer Service Representatives available 24/7/365 at 1-833-514-4190.
Who can open a Neighbors Bank account?
To open an account with Neighbors Bank:
You have to be a citizen or a legal permanent resident of the United States
You must be at least 18 years old
You must have a Social Security number
You need a U.S. physical street address
We cannot open accounts for non-resident aliens.
What is the minimum deposit for opening an account?
Our minimum to open is $25. There are no monthly service fees!
How do I make a withdrawal from my Online Savings Account?
You can withdraw funds (subject to certain withdrawal limits) by:
Online funds transfer
Request a Cashier's Check
There are a few guidelines to withdraw transactions:
You can make unlimited deposits. But, federal law limits other electronic, telephone and check transactions to a total of 6 per statement cycle. These limited transactions can be to other accounts or to a third party. If you go over the limit, we charge $5 per transaction.
Can I deposit cash?
No. We don't accept cash deposits. However, there are several ways you can make a deposit into your account.
Remote check deposit using your mobile device
Online transfers from other bank accounts
Wire Transfer. Here are our wiring instructions:

Bank Information:
Midwest Independent Bank
PO Box 104180
Jefferson City, MO 65101

ABA# 086505273

For Credit to:
Neighbors Bank
PO Box 308
Clarence, MO 63437

ABA# 081518210
Acct Number 206185

For Further Credit to:
Customer Name
Customer Address
Customer Account Number
Why do you ask personal questions to verify my application?
Like most banks, we gather this information to:
Verify your identity
Protect you from online fraud
Comply with federal regulations
This won't impact your credit score.
How do I find my routing number and account number to fund my Neighbors Bank account?
Look at the bottom of a check from your external bank account to find the routing and account numbers needed to fund your Neighbor's Bank savings account.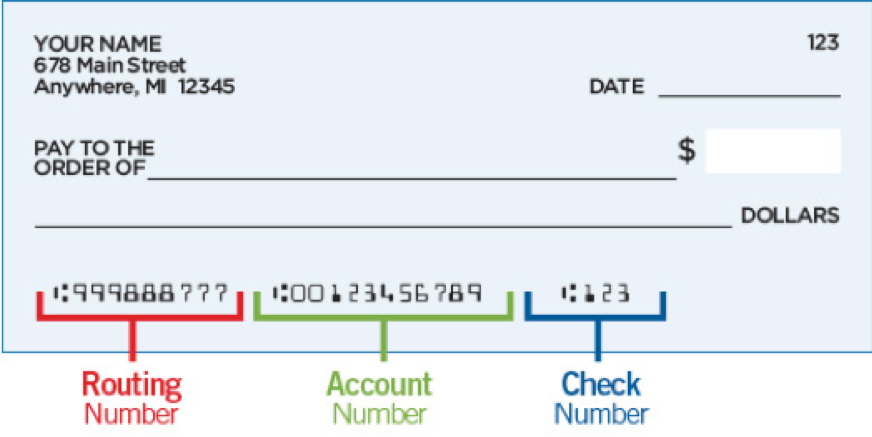 What are microdeposits and how do I verify them?
Microdeposits are two small (less than $1 each) deposits sent to your funding bank account to verify ownership of the account.
When we issue these microdeposits to your account, we issue two small withdrawals and to offset those withdrawals we issue two small deposits simultaneously. You'll see these deposits/debits in your bank account within 1-3 business days as separate items on your bank statement. An email will automatically be sent to you asking you to verify the microdeposits.
If you're not seeing the amounts after 3 business days, it's possible the bank account information may have been entered incorrectly. Please contact Customer Service at 1-833-514-4190..
How do I speak to someone about my account?
With Neighbors Bank, you can call us 24/7/365 at 1-833-514-4190. or use our secure message portal in your Online Banking.
How do I sign up for Online Banking?
Shortly after your account application has been accepted, you should receive an email (check your Junk folder if you do not see it at first) and a text message inviting you to Online Banking. Follow the instructions to get set up! Your Username will be your email address and your Password will be the 6 digit code texted to your mobile device.
Which browsers work best with online banking?
I got a text message from Neighbors Bank with a code, what do I do?
This code is your temporary password to sign up for Online Banking. Check your email for a message from Neighbors Bank with instructions about how to complete setting up your Online Banking
I never got a text from Neighbors Bank to set up Online Banking?
This could happen if we don't have your correct phone number. Call us at 1-833-514-4190 and we can instantly resend you a new code!
I forgot my password. What now?
From the Online Banking login screen:
Select the "Forgot your password?" link beneath the box where you would enter your password.
Enter your Username, Last Name, Phone Number Registered with the Bank, and Registered Email.
Check your text messages for a temporary password.
Should I "register this device" in Online Banking?
It depends on the type of device you're on. If you're on a personal computer/mobile device that you use frequently, it's a good idea to register it. If you're on a friend's computer or a computer used by the public, you should not register it.
How do I download the Neighbors Bank app on my phone?
Apple products
Visit Apple App Store and download the app by clicking "Get." Go back to your home screen and find the downloaded Neighbors Bank app. Sign in with your online banking username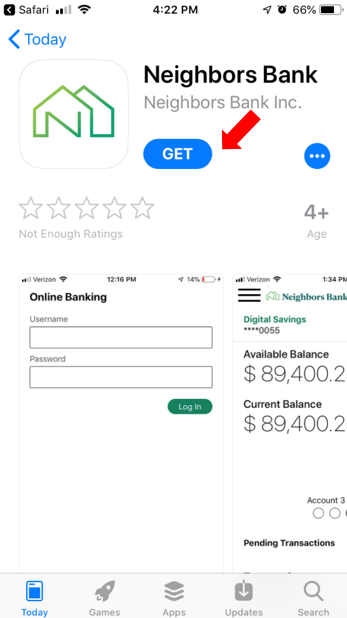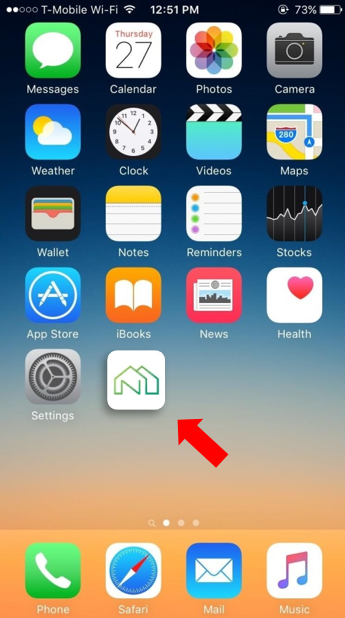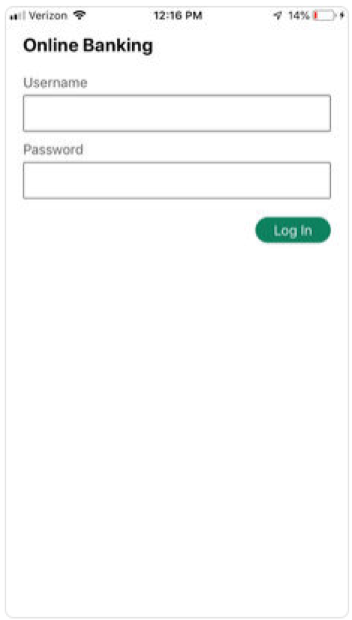 Android or Google products
Visit the Google Play Store and download the app by clicking "Install." Go back to your home screen and find the downloaded Neighbors Bank app. Sign in with your online banking username and password as normal and enjoy 24/7 access to your account.
What can I do with Mobile Banking?
With our Mobile Banking, you can:
Make deposits
Transfer money within your Neighbors Bank accounts, or between your Neighbors Bank and non-Neighbors Banks accounts
View your balances and search transaction history
What if my mobile phone is lost or stolen?
If your phone is ever lost or stolen, you should notify your carrier right away. No one can get to your Neighbors Bank account information without knowing your username and password, but you can always call us at 1-833-514-4190, and we can reset your login information right over the phone.
How do I deposit a check?
While logged in to the Neighbors Bank Mobile App, find "Deposit Check" in the dropdown menu.
Select the Neighbors Bank account you would like the deposit to be applied to
Enter the amount of the check. (There is a limit of $10,000.00)
Please endorse the back of the check as "For Mobile Deposit Only to Neighbors Bank," and sign your name
Take a picture of the front and the back of the check
Submit
When is my money available to me after I deposit a check?
If the check is deposited before 4 p.m. ET, it will typically be available the same day. Checks deposited after 4 p.m. ET will typically be available the next business day.
How do I transfer money to another account at another bank?
In Online Banking find the "Move Money" tab and select External Transfers. Select your name as the client and hit go. The dropdown menu in the blue bar at the top of the screen will help you navigate External Transfers. If you are transferring money to an account at another institution for the first time you will need to "Add External Account."
How do I speak to someone about my account?
What should I do if I suspect fraud on one of my Neighbors Bank accounts?
If you suspect you might be a victim of identity theft or financial fraud, contact our customer service hotline 24/7 at 1-833-514-4190.
How can I find my bank account number?
You will find your account number on any of your online statements. You may also reach out to customer service 24/7/365 at 1-833-514-4190
What is Neighbors Bank's routing number?
Our routing number is 081519565.
How do I change my address?
My statement never came in the mail.
Since we are an online bank, we send your statement directly to your Online Banking every month. You can access your statements 24/7 by logging in to Online Banking on a computer and clicking the "Statements" tab. If you choose to download your statement, you can save it to your computer or print it for your records.
How do I close my account?
How much money can I put in my account?
The maximum balance allowed in your Account is $250,000. You will be precluded from adding funds to the Account once the balance reaches $250,000. Interest earned will not count towards your maximum balance allowed and will continue to earn interest even if the balance with interest exceeds $250,000. If your Online Savings Account was opened prior to May 6, 2020, you will be "grandfathered" in and allowed to keep an excess of $250,000 in your account.
If you deposit funds that cause your Online Savings Account balance to exceed the applicable maximum deposit limits by greater than or equal to $1,500 (or such lesser amount as determined by the Bank in our sole discretion), you authorize us to return the full excess deposit balances to you via check, or, subject to applicable authorization requirements, via ACH Transfer or wire transfer. If we receive a wire transfer or ACH Transfer from you for deposit and the deposit would cause you to exceed the applicable maximum balance limits, we may, in our sole discretion, reject and return the wire transfer or ACH Transfer, in accordance with applicable requirements.